70% of global deforestation is a result of bad agricultural production.
We co-create natural and cultural projects with indigenous people's wisdom to regenerate the earth through Agroforestry and ancient methods.
The Jungle is a determined group of monthly givers on a mission to create a better future creating long-term solutions to some of the biggest issues of our time, including the climate crisis, factory farming, and fractured rural economies. Hearts like you giving anything they can, to see how unstoppable we are when we work together with our hearts united.
SIGN UP FOR A SUBSCRIPTION TO TAKE CLIMATE ACTIONS MONTHLY!
​
Be part of the movement!

For less than 0,16€ daily you can make a difference by planting trees, regenerating CO

2

from the atmosphere with trees in degraded soils, giving a stable income to native communities preserving food security, and sovereignty rescuing our native lands and protecting them. We strive to preserve nature, mitigate climate change, preserve water, supplies, and wildlife!



WE FUND TREE PLANTING PROJECTS AND PROTECT NATIVE FORESTS!
​
Together we are healing the earth through community regenerative agriculture, food forests, ancient wisdom & culture! We plant and take care of the trees in special reforestation spots. After the sowing, the native communities and residents will look after your trees. We work to establish new reforestation programs and more partnerships with indigenous projects to create new natural reserves - one tree at a time!
RECEIVE UPDATES, MEDIA CONTENT & TRACK YOUR IMPACT!
​
By becoming a member we will mail you a certificate with the location, description and necessary information about the impact of your climate actions. We will send you links to our media content before premiering, track of our cultural, artistic and education programs, plus information to expand your regenerative ecosystem knowledge and ancient wisdom.
201,600

Kg
CO2 regenerated
8
cultural & media projects
Regenerative, Fair & Organic
We have 30 harvests to solve one of the greatest challenges that we are confronting is finding a way to feed 10 billion people by 2050 without destroying our remaining natural landscapes in the process.

We recognize that this can only be achieved by revolutionizing current agricultural practices and integrating traditional agricultural wisdom from natives communities. They have agriculture to preserve life with the perfect balance to understand nature deeply and follow their rhythms to create harmony in our human experience. Indigenous communities preserve more than 80% of biodiversity in the world for thousands of years.
Community agriculture is practiced for thousands of years, now we need to create a change in times of industrialized mono-agriculture, together we need to build success in food cultivation: we as consumers finance the farmers' farm and share the harvest in exchange, the yields, and crop risks are shared in solidarity. The farmer is independent of the market and its fluctuations and the consumer of freedom association. Together, as an initiative, movement and subscription, we create a unique community of wonderful visionaries, organic farmers, and people who consciously enjoy themselves, our environments, and biodiversity.

​

Be part of the community-supported agriculture;
donate and receive Indigenous Speciality Coffee!

Help us to plant 10.000 trees for Foood Forests and supporting more than 60 native families in the Heart of the World, the Sierra Nevada de Santa Marta, Colombia with a relief fund for urgent needs! Try one of the best specialty coffees in the world and one the first ones to be climate positive knowing that with every intake, you are contributing to creating a better world.

WHO WILL BENEFIT?

80 native families from the Sierra Nevada de Santa Marta in Colombia.

+ First 10.000 trees for Food Forests
+ Food Sovereignty and Community Resilience
+ Urgent and Immediate Prevention and Care
+ Protection and Security for Forest Guardians
+ Create circular and participative economies supporting
Community regenerative agriculture (+SCA).
WHAT IS COMMUNITY SUPPORTED AGRICULTURE (CSA)?

We are building a community of changemakers, with our power of consuming we can change the world to have a positive impact through our food, we are one for all, all for one! It is a community-based organization of growers and consumers. The consumer has a direct and deeper relationship with the farmer, we agree to provide direct, up-front support for the local growers who produce our food. The growers agree to provide quality food to meet the needs and expectations of the consumers. In this way, the farms and families form a network of mutual support. A profound bond between communities.
Single orders & Subscriptions!
Frequently asked questions
What is Speciality Coffee?
---
The indigenous forest coffee grows wild in the mountains of the Sierra, it is beyond organic, and more than fair trade, making a pact with nature nurturing with cultural and spiritual rituals. They make payments through offers to the Earth, working with nature following the natural cycles of the moon, and every part of biodiversity, as the Iku community says: "Special agriculture conceived to respect nature and our organism, it is the greenest way we can be: living and working according to the life cycles of nature and the Law of Origin." - Amas la Sierra. Supporting ancestral agriculture and giving back trees for a healthy soil, increasing and maintaining a balance with biodiversity, sowing food forests systems for the families, and creating an economic fund relief for urgent matters with every tree planted. The wide definition of speciality coffee is coffee scoring 80 points or above on the 100-point Coffee Review scale. Coffee scoring from: ​ 90-100 is Outstanding 85-89.99 is Excellent 80-84.99 is Very Good
---
What type of Coffee is?
---
GAIRA
SCORE: 85 points
Hundreds of Arhuaco families united in one cooperative.
Producer: Asoarhuacos
(In stock now!)

TAYRONA:
SCORE: 86 points Single Origin / Sogrome
60 Arhuaco families united in one company.
Producer: Amas La Sierra
(Pre-sale from July 2020, delivery in October 2020)

Specialty roasters are able to unlock and bring out the unique flavors that reflect the coffee's origin. Soil type, humidity, plant health, and a variety of other variables determine a coffee's flavor. The coffee reaches an excellent position on the international scale of coffee with notes of chocolate, fruits, nuts, an excellent body with low acidity. The regenerative community pre-financed agriculture approach and the story behind the coffee with the indigenous communities that grow it makes our coffee unique.
---
Where do you ship?
---
[Europe]

Andorra, Austria, Belgium, Belarus, Bosnia & Herzegovina, Bulgaria, Croatia, Czech Republic, Denmark, Finland, France, Germany, Gibraltar, Greece, Guernsey, Hungary, Iceland, Ireland, Italy, Jersey, Latvia, Liechtenstein, Lithuania, Luxembourg, Malta, Monaco, Netherlands, Norway, Poland, Portugal, Romania, San Marino, Serbia, Slovakia, Slovenia, Spain, Sweden, Switzerland, Ukraine, United Kingdom

[Asia & Pacific]

Australia, Bangladesh, China, Cyprus, Hong Kong, India, Indonesia, Iran, Israel, Japan, Jordan, Kuwait, Lebanon, Malaysia, New Zealand, Pakistan, Philippines, Qatar, Russia, Singapore, Saudi Arabia, South Korea, Taiwan, Thailand, Turkey, United Arab Emirates, Vietnam

[America]
Argentina, Brazil, Canada, Chile, Colombia, Mexico, United States

[Africa]
Egypt, Morocco, Mauritius, South Africa

--

[AUSTRIA]
€4,90 delivery with tracking2-3 working days ETA

[Europe]
€6 delivery without tracking3-4 working days ETA

[USA & CANADA]
€9 delivery without tracking1-2 weeks ETA

[Other Countries]
€9 delivery without tracking1-2 weeks ETA
---
Transparency and how is the money distributed?
---
Greeen cost for the coffee community:
5.88€ per Kilo + 25.000 trees.
Transportation Colombia-Europe: 2,30€ per kilo
Financing: 0,20€ per Kilo Production cost: Roast, Packing, Development: 15,50€ per Kilo
Community: 0.96€
Delievery: 3,90€ - 9,40€ per package.
Transactions: 1,20€ per transaction aprox.
Cup Score: 86-87
Lot Size: 840kg (2020)
1 tone (2021) For tree planting projects from 2021: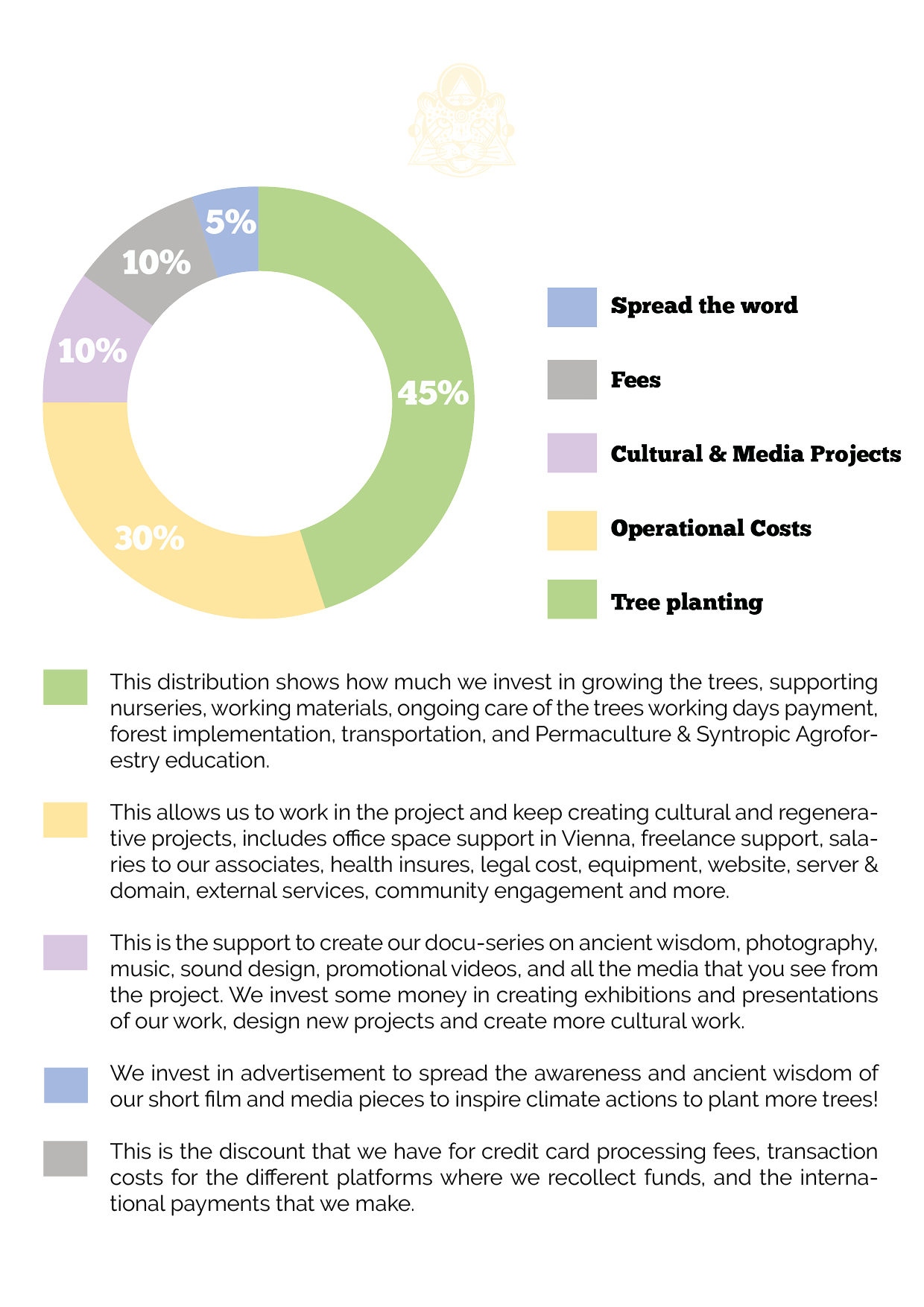 ---
---
"Inside the human being, the forest of sensitivity has been cut down and the river of hope has dried up because of this it is necessary to reforest the heart!"




- Kogui proverb -
Why in the "Sierra Nevada de Santa Marta"?
The TAYRONA were the native community that has lived in harmony with the ecosystem for more than 26000 years. They preserved the ancestral knowledge and nurture the land, this knowledge is key in our own restoration and preservation of the balance of the world ecosystem.
The "Sierra Nevada de Santa Marta" is a Pyramid with a snowy peak. It is the highest snow peak next to the sea rising from sea level up to more than 5000 altitude at once.
It also contains a micro-system that is called the #HeartOfTheWorld because the health of the Sierra and its complex ecosystem is supporting the balance and the health of the entire earth.
It is a sacred site that protects four of the most important indigenous communities in the world. Those communities are preserving and protecting the ancestral knowledge that is invaluable to mankind.
"Along this stretch of coastline, you have a microcosm for whats is happening in the Caribbean and also on the rest of the planet, their view that all these sites are connected and the activities of destruction here are having an impact at large scale in the world are right".
​
Alex Rogers, World leader in marine biology.
ACT TODAY!




NOW IS THE BEST TIME TO PLANT TREES!
TOGETHER WE ARE THE FOREST!